By Richard Roberts
Now, I think I'm a pretty good husband. But I also think my wife would be the first one to tell you, there's room for improvement. That means there is another level to my relationship with her that I could work toward.
The same concept works in the spiritual realm. There's another level that God wants you and me to arrive at. Now, I don't know about you. I don't know exactly all that you've been through. But I've been to hell and back in my life many times. I've been through problems. I've had ups and downs. I've been in times when we've had finances, and times we've had no finances. I know what it's like to feel discouraged, lonely and hurt on the inside. I know what it's like to walk the floor and pray and feel like you're not getting any answers.
I understand. I know what people have been through, because I've been through many things myself. But I've got news for you, no matter where you are in life, God wants you to have a better life. That means there is another level that we can reach.
I believe God wants every principle in the Bible to come alive in your life, for healing, wholeness, for wellness, for all that God has for you.
What does it mean to have a better life? A better life is a closer walk with God. A better life starts with a deeper, more meaningful relationship with Jesus Christ as your Lord and Savior. A better life is having the power of the Holy Spirit active in your life on a daily basis.
It's having an abundance in every area of your life, and having your needs met. A better life is seeing miracles in your life on a regular, daily
basis and trusting God in every area of your life.
A Closer Walk with God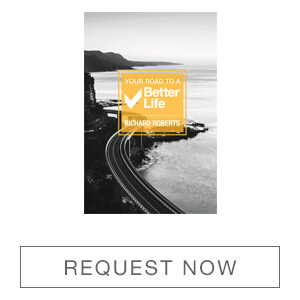 Now, my father was Oral Roberts. If anyone lived in a Christian home, it was me. And yet I rejected God. I didn't want God in my life. But I came to a time in my life when I was 19 years old that I realized I would never be able to achieve what I dreamed of without getting on that better road, and having a personal relationship with Jesus Christ. My mother actually said to me on the day before I prayed the sinner's prayer, "Richard, you'll never be fulfilled in your life. You'll never have all and achieve all that you want without a personal relationship with Jesus Christ."
I'd heard those words before. But on that day, they got down on the inside of me. And I realized she was right, so I committed my life to Christ. You see, the better road — the better life — that God has for you begins with a commitment of your life to Christ. And then it continues with the active daily participation of the Holy Spirit in your life.
The Presence of the Holy Spirit
The Holy Spirit's daily participation is important if you want to have a better life. Why? Because the Holy Spirit is a source of power and transformation in your life. If you're a Christian, the Holy Spirit is in you. He came into you on the day you were born again. "The Spirit Himself bears witness with our spirit that we are children of God" (Romans 8:16). And He's at work within you right this very moment.
What does the Holy Spirit do in you and for you? The Bible says in Romans 8:26 that He intercedes for you. Even when you don't know how to pray for what you need, He knows. He's reaching down into the depths of your being, and He's pulling up all that you have wanted to say to God. He pulls up all the stuff that's on the inside of you for which you have no words. And He's taking it up to God and then He's bringing down answers and ideas and new insights and concepts, new and innovative ways of doing things as you pray in the spirit. (* See The Baptism in the Holy Spirit on our website.)
Financial Provision
Your better life also includes your generous giving unto God, and also receiving from Him. Jesus said that when you give, God will give back to you, good measure, pressed down, shaken together and running over (Luke 6:38). There is an eternal principle: whatsoever a man sows, that shall he also reap (Galatians 6:7). If you give generously unto God, then God blesses it. God wants you to have more than enough to meet your needs and bless others.
Abundant Health
Not only does God want to bless you and give you abundance spiritually and financially, but He also wants to bless you in your body. God doesn't get any glory in your being sick. He said in 3 John 2, "Beloved I wish above all things that you prosper and be in health, even as your soul prospers." God wants you well in every area of your life. That's why I pray for the sick.
I received a praise report recently from a man who had stage 4 cancer. He called the Abundant Life Prayer Group, and we all prayed, and now the doctors can't find any trace of cancer in his body. You see, a better life includes healing from sickness and disease.
Deliverance and Freedom
The better life God has for you also includes freedom from fear, doubt, demonic activity, and anything that's unlike God. The devil comes only to steal and to kill and to destroy, while Jesus comes to give you abundant life, a better life (John 10:10).
Yes, a better life in the Lord is having the blessings of God in every area of your life — spiritually, physically, financially, emotionally, in your family, in every area of your life.
Whatever it is that would bring about an improvement in your life, I pray for God to bring it about for you according to His will.  I believe God knows exactly what you need, and right now I am asking Him to do whatever He would like to do in your life. I pray for you to be blessed physically, financially, emotionally, in your spirit, in your thinking, and in your walk with God, so that you would experience a spiritual uplift and rise up to a higher level. In Jesus's name, amen.