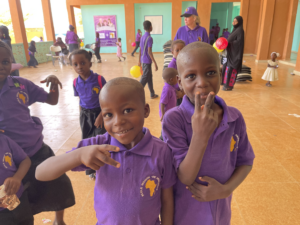 As we come to the end of the year, we'd like to give you an update and share with you how your generous gifts have made an impact. In Niger, West Africa, we have partnered with Vie Abondante Ministries to build and support a Christian school and housing project in a predominately Muslim region.
The school began with less than 50 students coming from Muslim homes. Our enrollment increases yearly, with the only advertisement being word of mouth. Today, approximately 360 are in attendance with less than 50 from Christian families.
Several parents have shared testimonies of what the school has meant to their children and families. One shared that before coming to our school, his child was 'turbulent'. But being at the school has changed him into an enjoyable and even obedient young man.
Future plans also include a place to house pastor's children, and sometimes their wives, who could be brought in from the surrounding villages where the terrorists have taken over and areactively and constantly harassing and threatening these families because of their Christian faith. In addition to housing, the children will be taught reading, writing and arithmetic as well as usable and practical skills such as cooking, cleaning and sewing.   
This school is not only changing children's lives for the better, it's changing generations of families for the glory of God.
Your generous end-of-year donation will make you a part of this work which God has begun in Niger. We believe only eternity will tell what an impact you've truly had on these families.
Give your tax-deductible gift today! Thank you!